IN LIMERICK'S HEART AND YOURS, SINCE 1852
ME TIME AT
THE MILK MARKET
Food, Family, Friends
THREE SWEET Fs TO THE WORLD
All weather. All weekend. Under the canopy.
Friday lunch specials - cafe culture & live music 12.30-2pm
Saturday:  our famous farmer's market
Sunday: Family Relaxation Day -coffee, cheese, crêpes, chocolates, occasional crafts - and yoga!
BREAD, CHEESE, FRUIT, VEG, FISH, MEAT & POULTRY.
COFFEE, PASTRIES, HOT FOOD, FASHION, FLOWERS AND CRAFTS
ALL WEATHER. ALL WEEKEND. MEET THE TRADERS.
The Little Top Café sells plant-based foods with great flavour combinations, sold in biodegradable containers, so you can satisfy your taste buds, your conscience and Mother Nature all in one go. You'll find the Little Top Café upstairs at the Milk Market from 8am to 2pm on Saturdays. But come early, because this is one…
Read More

→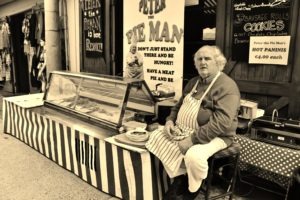 If you fancy something hearty on a Saturday morning – then check out Peter the Pie Man's Steak and Guinness pies, but beware, his sense of humour is just as saucy. When I ask Peter Gibson how he and his wife Clarissa Webb met, he doesn't hesitate: "In bed". After a long pause, he adds:…
Read More

→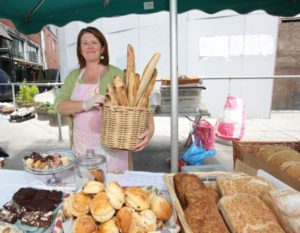 We all like a bit of savoury or sweet on a Saturday morning in the Milk Market and Vi Russell's Sunflower Bakery offers delicious handmade, additive-free breads, cakes and savouries. A trained chef, Vi is from Ayrshire in Scotland, but moved to Ireland in 1990 after meeting her Galway-born husband to be, Pat McManus, in…
Read More

→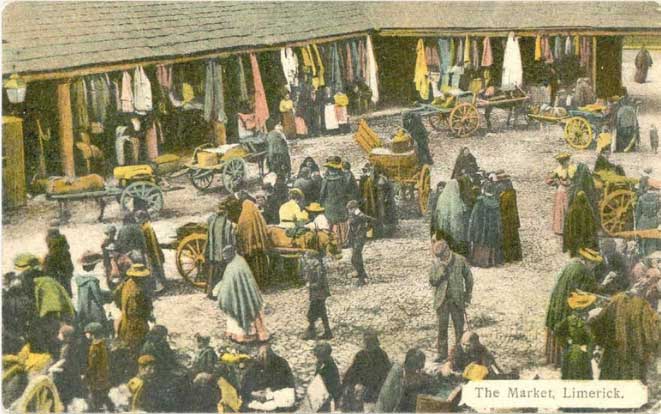 OUR HISTORY
Limerick once had a Pig Market, a Butter Market, a Hay Market, a Potato Market and a Corn Market, which was also known as the Milk Market. These Markets were dotted throughout the city.