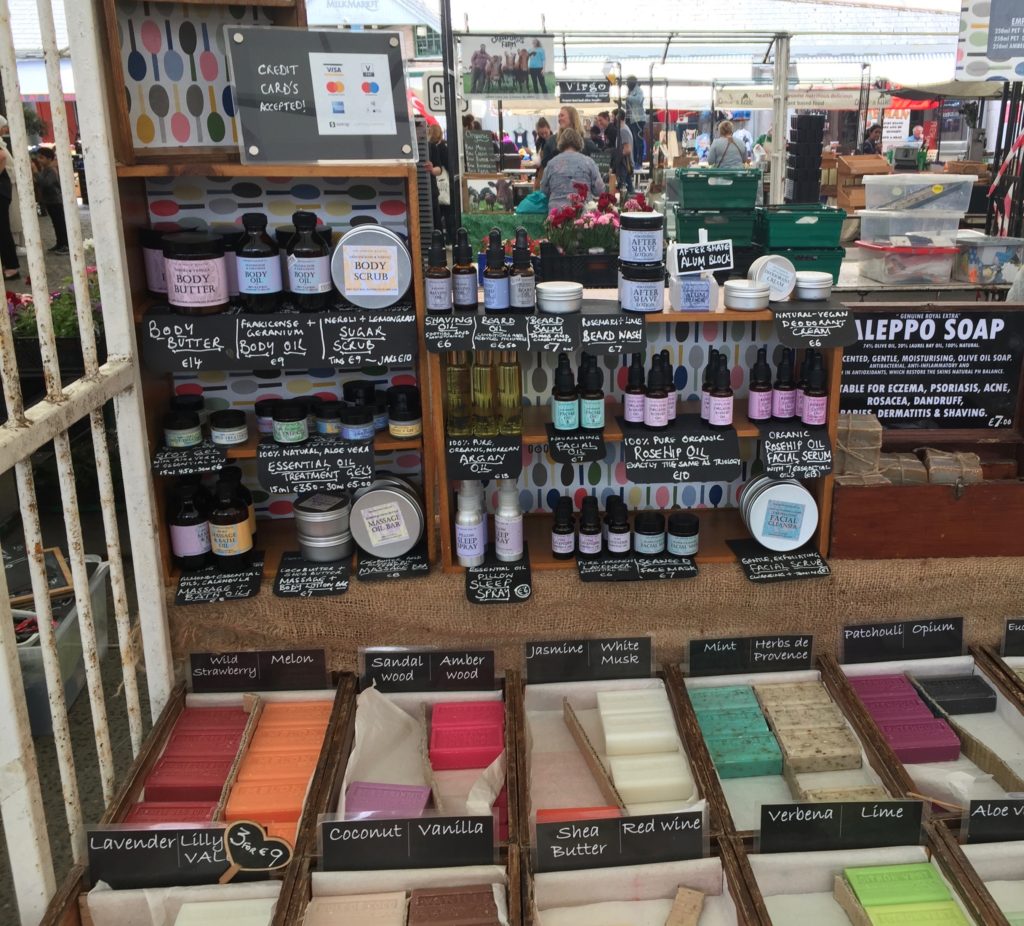 There is stiff competition when it comes to the best smells in the Milk Market – is it the coffee at Harper's, the grilled sausages at Country Choice, the crepes at Bon Appetit? But for those who stop at the Sunvale Soap Co stall, there can be only one winner – the fresh, clean aroma of Savon de Marseille.
Jasmine Crawford has been selling Savon de Marseille – a hard soap, traditionally made from vegetable oils – at the Milk Market for 13 years. She started selling imported French soaps from inside the archway entrance to the Milk Market. She then began making her own soaps and moved to a permanent Saturday stall, which is arguably the prettiest in the market.
Savon de Marseille are still the mainstay of the stall, but you'll find an eclectic mix of moisturisers, essential oils, creams, liquid soap, shampoos, and even dog soap. (I tried the €6 dog soap and it gave my dog's coat a lovely sheen which lasted for more than a week.) Pet owners will appreciate Jasmine's paw balm, which is used to protect sore, dry and cracked paws. There is even a dog nose balm to soothe and moisturise dry noses. So, you can add dogs to the list of happy customers. The stall has been popular with the ladies of Limerick for years but Jasmine has noticed much more men buying her products of late.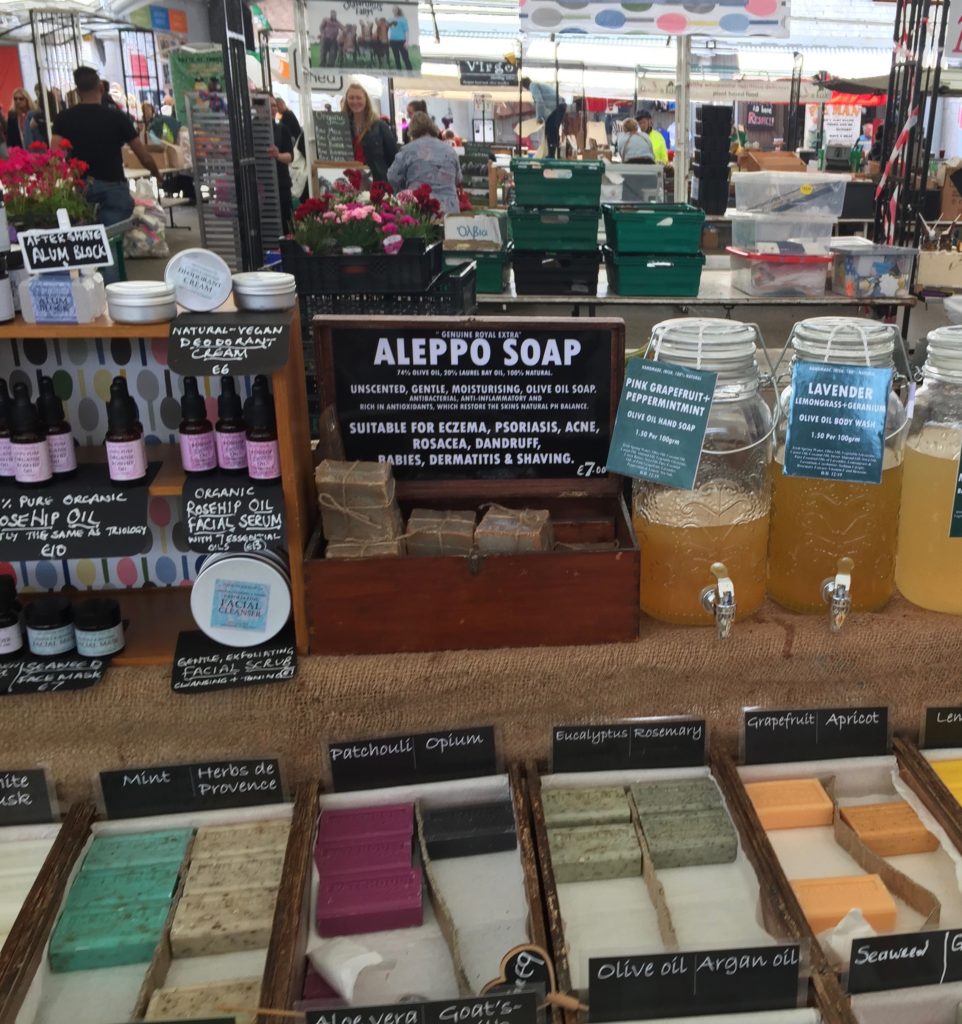 "It's a good mix of male and female. A lot of men like French soap that isn't packaged. They are becoming more environmentally aware, not buying shower gel that's packaged, and they prefer to buy these French soaps instead. I do find a lot of men are doing that."
Jasmine's other popular products for men include shaving oil, beard oil, body scrubs, body creams and face masks.
Originally from London, Jasmine moved to Ireland 26 years ago. With her children growing up and not needing her constant attention, she began making her own soaps, following similar traditional soap making methods to those perfected in Marseille. Soap has been made in Marseille for more than 600 years. Savon de Marseille is traditionally made by mixing sea water from the Mediterranean Sea, olive oil and the alkaline ash from sea plants together in a large cauldron. The mixture is heated for several days, stirring constantly. Then it is allowed to sit until its ready to be poured into a mould and allowed to set. The whole process can take up to a month.
Based in Ardpatrick in the Ballyhoura Mountains, Jasmine now makes soaps, moisturisers, essential oils, creams, and natural skincare products. Jasmine places a strong emphasis on the therapeutic qualities of essential oils and the healing properties of herbal extracts. The products are made with high quality ingredients made in small batches without chemical preservatives or synthetic perfumes.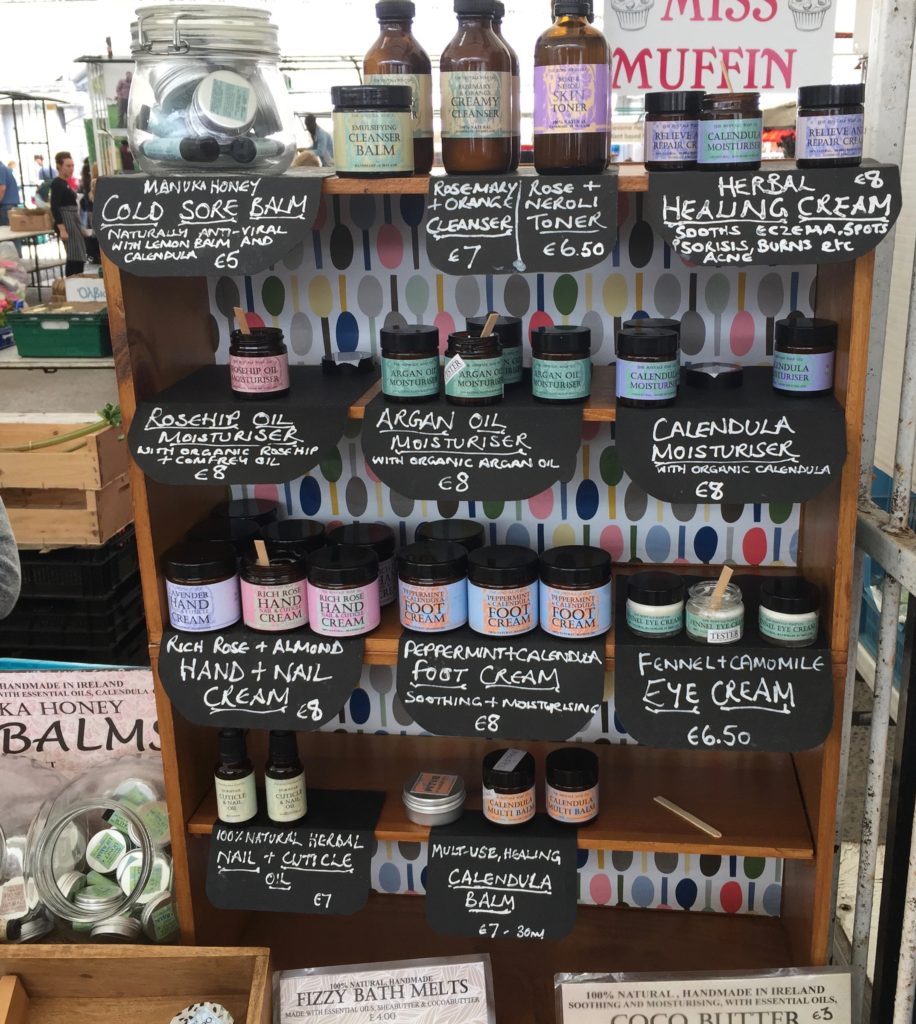 "I grow my own plants and make oils. In addition to the Milk Market, I also sell my products into shops and I'm part of two co-operatives one in Limerick, the other in Adare."
As well as Savon de Marseilles, Jasmine also imports products from the soapmakers of Aleppo, in war-torn Syria. The Aleppo soap makers had to decamp to Tunisia to escape their war ravaged city, but they continue to export their soaps via France. Soap has been made in Aleppo since the eight century, so Jasmine is keen to support that tradition.
"There is a group of French soap makers that are trying to help them set up again in Aleppo. I've been reading up a lot on it. The French soap markets import it from Tunisia and I import it from them."
Although the hard Savon de Marseille are the mainstay of her stall, Jasmine has recently added her homemade liquid soap.
"The liquid soap is a new thing that I've started doing with a refill service. People bring back the dispenser for refills."
All of the packaging used for Jasmine's products are recyclable and sourced in Ireland.You can find a full list of products on the Sunvale Soap Company website, https://thesunvalesoapco.com but popular items include: Argan Oil Moisturiser (€9); Calendula Moisturiser (€9); Calendula Multi Balm (€9); Charcoal Detox Facial Mask (€8); Deodorant Cream (€7); Horsetail Nail and Cuticle Oil (€7); Lavender Hand Cream (€9); Lemongrass & Neroli Body Scrub (€11); Neroli & Vanilla Body Butter (€14); Nourishing Facial Oil (€8); Peppermint and Calendula Foot Cream (€9); Pillow Sleep Spray (€8); Pure Organic Rosehip Oil (€11); Relaxing Massage & Bath Oil (€9); Relieve and Repair Cream (€9); Rose and Neroli Toner (€7); Rose Hand Cream (€9); Rosehip Extra Facial Serum (€14) Rosehip Oil Moisturiser (€9)semary and Orange Cleanser (€8); Seaweed and Manuka Facial Mask (€8); Sport Massage & Bath Oil (€8); Spot Treatment Gel (€5.50).