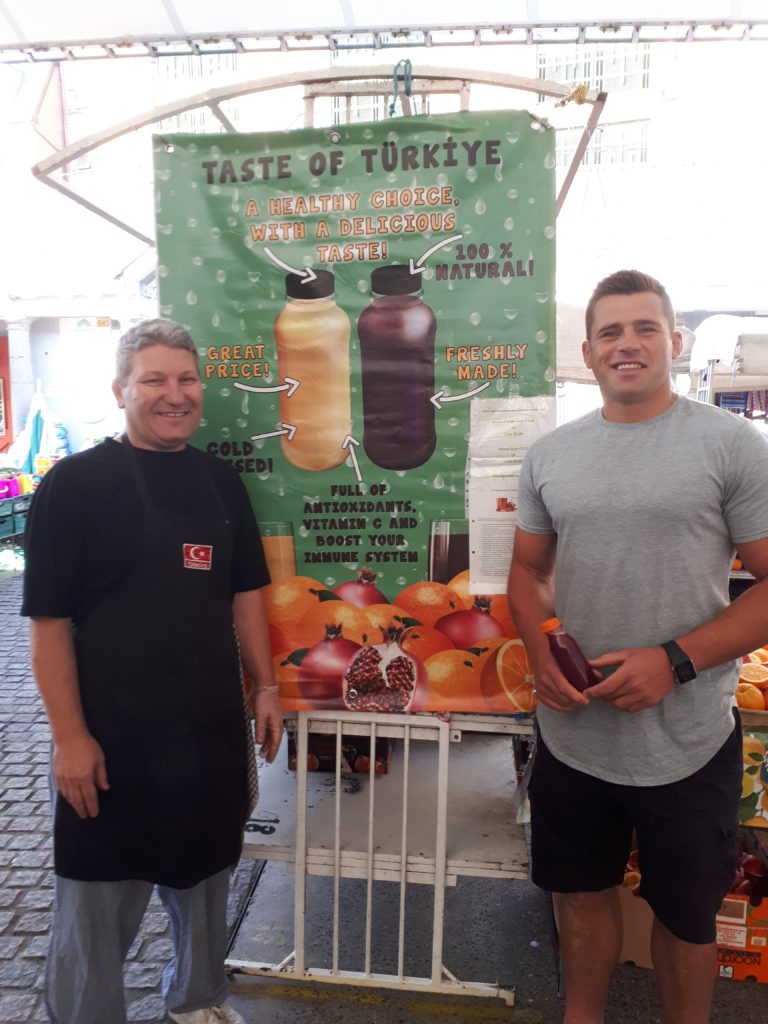 Sefik Dikyar's journey to Limerick from the town of Tire, near the city of Izmir on Turkey's Aegean coast, has all the drama of the hit film Four Weddings and a Funeral. A surprise invitation to a wedding, then a last-minute invite to stand in as an emergency witness for the groom, led to Sefik finding love and spending the next 14 years in Limerick.
Sefik Dikyar's customers – who are a who's who of Limerick sport, with everyone from CJ Stander to Paul O'Connell dropping by for some of Sefik's famous juices – are grateful for the bizarre twists of fate, which led to Sefik standing beside a lovely Limerick woman called Liz at that unexpected wedding ceremony in Turkey.
"I was working in Turkey. We had an advertising company and I was doing marketing producing birthday cards, wedding invitations, that kind of thing. This guy came to me to do his wedding invitations and I must have done a good job because he ended up inviting me to the wedding. The groom's name was Salih and he was marrying an Irish girl. There was some problem with the groom's uncle who was to be a witness but he lost his ID and the groom was worried. He had to find a new witness. I said I had ID and I ended up being a witness. So when they were taking all the pictures I ended up getting my picture taken with one of the bridesmaids, a girl called Liz Hickey from Clonlara. She was a cousin of the bride.  
"We got chatting and after the wedding, Liz came over to see me about five times in Turkey. The wedding was in June 2004 and we got married ourselves just over a year later in September 2005. It was a bit of a whirlwind. I must have made a good impression that first day – but, of course, I was much younger then!"
"We came to Limerick in 2005 and I worked for a number of years in lots of different restaurants in Limerick – the Texas Steakout, No. 1 Pery Square, the Absolute Hotel and others. Then in August 2013, I set up my stall in the Milk Market. At the beginning I had to give away free stuff all the time, so people would sample what I had to offer. But now, six years later, things are going very well.
"A lot of people who come to my stall come for my speciality, which is Baklava. My selling point is Baklava to Die For. I've never had any customers who disagreed afterwards, or died! Baklava is filo pastry filled with chopped nuts and soaked in honey. It's a dessert which, like everything else on my stall, gives you a taste of the Middle East. You'll find lots of authentic middle eastern tastes on my stall, everything from tea and coffee to herb and spice selections."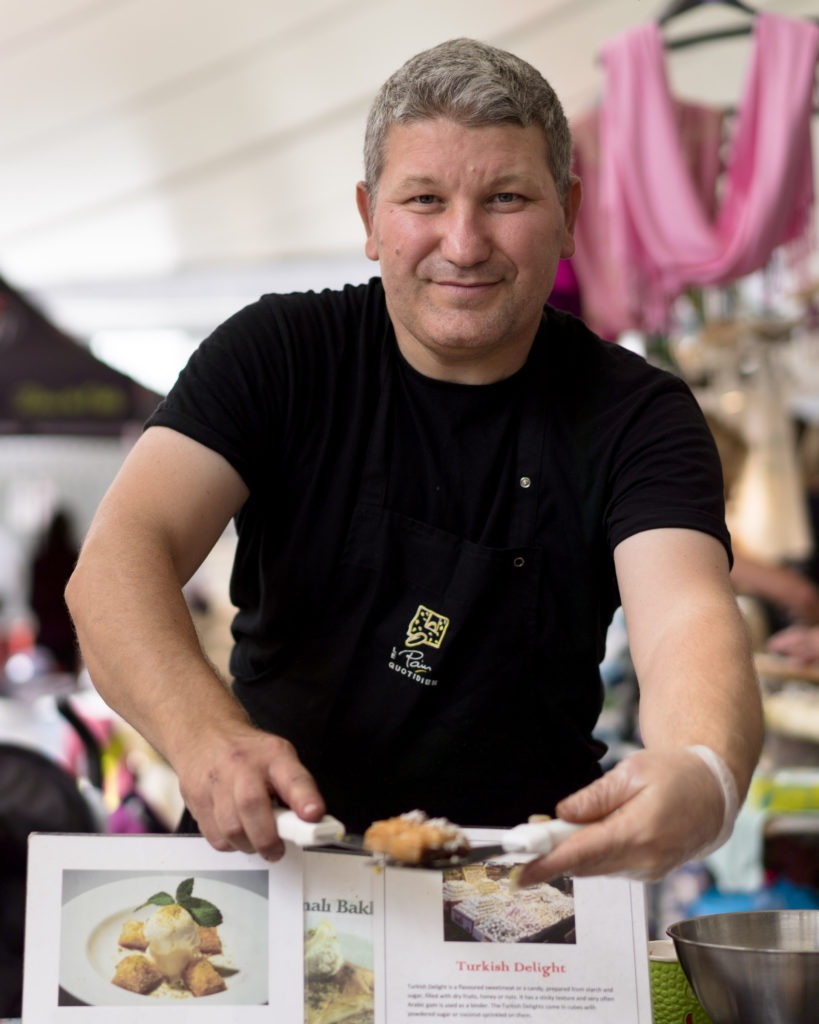 Although Sefik has regular Turkish customers – there are, he estimates, some 60 Turkish people living locally who are regulars – about 60% of his customers are Irish.
"They love the Baklava, but also my fresh fruit juices are very popular. I get a lot of the Munster rugby players, people like CJ Stander, who come for my pomegranate juice. I do grapefruit and orange juices as well. I make juice from grapes and add a bit of ginger on top. I sell Turkish spices, chilli peppers, and wild oregano. I'm selling a taste of the Middle East. A good example would be my pomegranate molasses which is really good with lamb dishes. I get a lot of chefs and food writers who come to the stall from all over.
The Sunday Independent food critic, Lucinda O'Sullivan, is a big fan: "Sefik produces the best baklava and other specialties, I have seen this side of the Bosphorus."
It wouldn't be a taste of Turkey without Turkish Delight. "One of my biggest sellers is my home-made Turkish Delight. It's gluten-free, so a lot of coeliacs like it. It's also vegan friendly."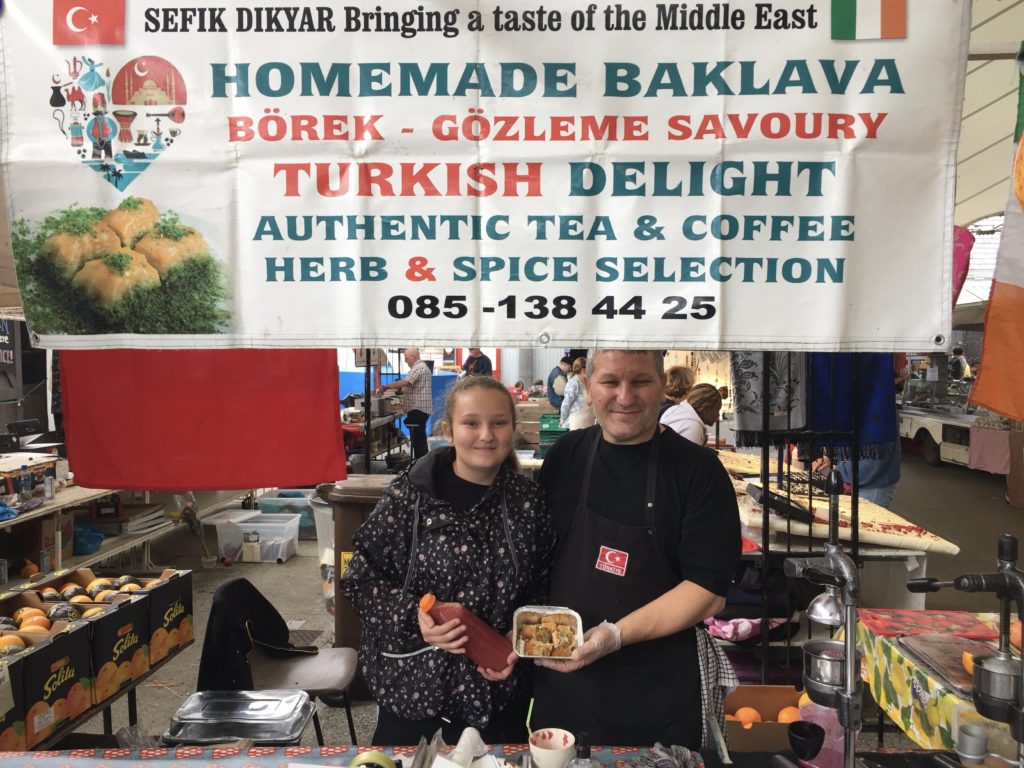 Sefik and Liz now live in Glenbrook and have two Irish-born children, Leyla, 12, and Robert 5. Sefik keeps in touch with his native Turkey by watching his beloved Fenerbahce soccer team on tv. The family travels to Turkey every May or September to meet up with Sefik's brothers. 
"I only go in May or September because otherwise it's too hot – I'm turning Irish now myself!"
As for Salih, the groom who serendipitously invited Sefik to his wedding, he now lives in Limerick too – working at Istanbul Kebab in Limerick. It's a small cosmopolitan world at the Milk Market, a place which is, like Sefik's Baklava, to die for.