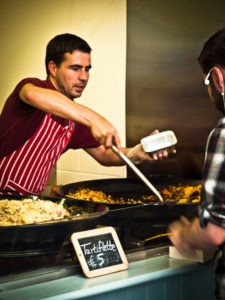 FONDLY known as Seb and Kasia, Sébastien Ridoux and Katarzyna Wiacek attract long queues at Bon Appétit, their French Crêperie in the Milk Market.
With the birth of their first child, Juliette (named after one of their popular pancakes), and a business booming after surviving the recession, the couple has come a long way from their days working side by side in a Limerick cafe.
Today, they have people happily clamouring for their enticing menu of  mouth watering crêpes (sweet) and galettes (savoury), delicious tartiflettes and omelettes, plus a choice of soups and juices. Using both traditional and buckwheat flour, their crêpes are as authentic as any you would eat in Brittany.
"Bon Appétit ingredients are hand picked from fresh, local, free range produce to ensure that our crêpes and galettes are the tastiest around.Our crêpes are our greatest asset, we have developed what we believe is the perfect batter for producing paper-thin crêpes," Seb said.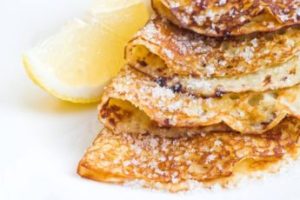 Their crêpe varieties include: Parisian (with chocolate sauce), Angélique (banana & chocolate), Acadie (banana & maple syrup), Crêpe Suzette (Grand Marnier, sugar and butter) and Amélie (apple and cinnamon).
From Francastel, a small village, 60 miles north of Paris, Seb, 42, completed military service in France before starting his culinary career in Mexico, where he worked in an old college friend's French restaurant. While in Mexico, Seb ate authentic street food, Ahuatle known as 'Aztec caviar'.
Seb swapped Mexico for the Treaty City in Limerick. He began working in Java's on Catherine Street, where he found himself working beside Kasia, a Polish girl, who would one day become his wife.
Kasia, 41, who holds a degree in social studies, had come to Limerick to complete exams after working in Taiwan, where she taught Asian children for one year and learned to speak Chinese. Whilst in Taiwan, she had immersed herself in Asia's diverse culture, particularly its food, characterised by an exotic array of colour and flavour.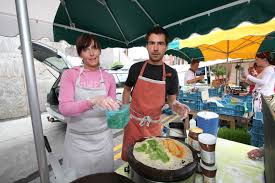 The couple shared a passion for food, and a love of new ingredients and cooking methods.
Spotting a niche in the market, they purchased a crêpe stall from their previous employer. As you might expect from two foodies, their timing was perfect. Even amidst the cappuccino culture of Celtic Tiger Limerick, nobody was selling crêpes. They started to trade their artisan product at farmers markets around Munster and focused on different trade ideas such as corporate and catering events.
They purchased a permanent pitch in the redeveloped Milk Market, and, all told,  have now been dishing out tasty wheat and gluten-free savory and sweet crêpes to the citizens of Limerick for more than ten years.
Over the years, Seb and Kasia have travelled widely, with Rome a favourite destination. Seb discovered a few of his favourite recipes – courgette gratin, warm octopus salad and artichokes dressed in tuna sauce – in the Eternal City. They have a rule when in Rome, stay away from tourist drenched areas, and instead, wander down side streets to where the locals eat and drink.
The road less travelled has served them, and the Milk Market's customers, well.