Select Christmas Markets from the 4th Dec with a full week of markets 17th to 24th. It will feature up to 60 stalls & shops. All packed with a wide range of artisan food, craft & gift possibilities, Christmas crafts & gifts, quality festive & speciality foods, collectables, bric-a-brac, toys, books, fashions, seasonal decorations & more!
Christmas choir competition
Christmas choir competition will run during the Christmas Markets (Dates listed) and the winner to be announced on the 24th December at 2pm with a donation to the winning choir of €500.00
Christmas colour in competition
Christmas colour in competition will feature 5 different baseline illustrations  and there will be prizes for the top three entrants of the competition 1st place prize worth €200.00 2nd place  prize worth €100.00 and third place prize worth €50.00.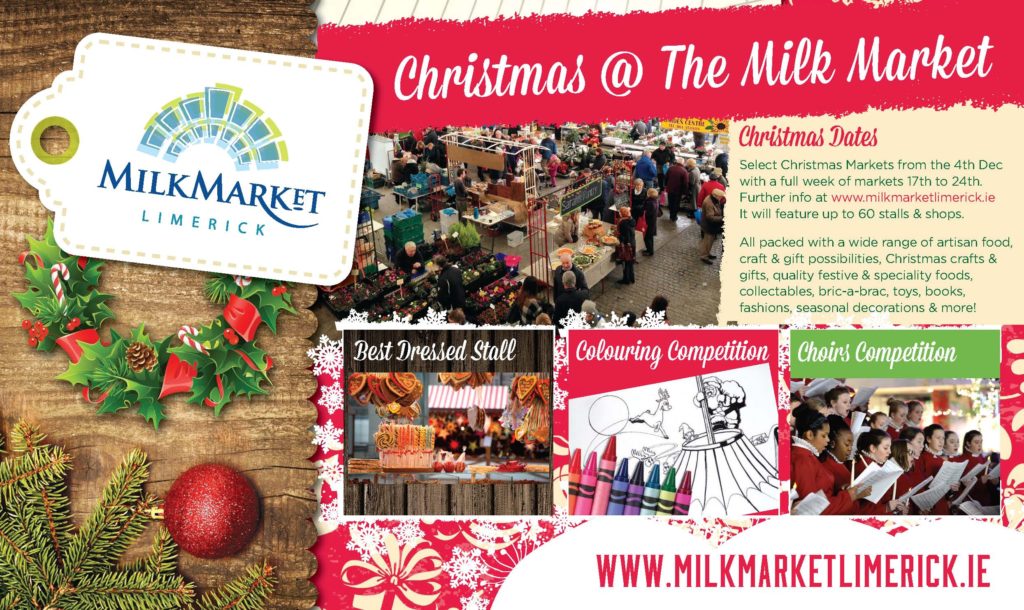 Christmas at the Milk Market is a long standing feature at the Milk Market with over 160 years of history. While not like many other Christmas Markets; The Milk Market embraces the festive feel while retaining the look and character of our core markets/traders: (Fri/Sat/Sun) with an additional splash of Christmas colour, song, smells, gifts and cheer to the mix along with a full week of trading 17th to 24thDecember.
The dates for Christmas at the Milk Market this year:
Fri-Sun 4th, 5th, 6th
Fri-Sun 11th, 12th, 13th
Full Week of Christmas 17th, 18th, 19th, 20th, 21st, 22nd, 23rd and 24th December 2015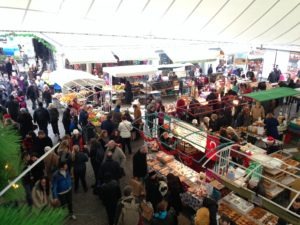 Why not pick up that unique fashion or handcrafted gift for that someone special along with your stocking full of Christmas cuisine and treats while supporting your local producer. It is an excellent opportunity also for Choirs of all kinds to come along and sing Christmas Carols under the beautiful Milk Market Canopy. Christmas Colour in Competition and multiple daily prizes will run in conjunction with our 2015 Christmas partners.
We are very excited about the list of programmes and events brought to you in partnership with multiple community, schools, business and charitable groups at your local friendly Milk Market serving the good people of Limerick Since 1852.
Featuring:
Christmas Lights switching on Friday 4th

 

December by Limerick Mayor Liam Galvin
Limerick Thomond Rotary Club Remembrance Tree at the Milk Market from 4th

 

Dec
UL Architecture (SAUL) and FabLab Calais Aid Limerick Solidarity Dine at the Friday Milk Market 4thDecember
Serve The City music brigade on multiple dates from 4th

 

Dec with competition prizes
Clareview Car Sales Promotion team multiple prize giveaways Xmas @ Milk Market who have kindly sponsored the Xmas Lights
Dirty Mudders Calendar sale Saturday 5th

 

December. Friends of the Hunt Musuem, Limerick Racecourse Team, Limerick Animal Welfare and Mid West Simon
Record Fair Sunday 6th

 

part of Chiristmas at th Milk Market 2015
Croagh School of Music Trad session Sunday 6th December 2015
Santa Letter Posting service at Harpers Café the Milk Market from 11th

 

December
Limerick Food Hamper Appeal with the Redemptorists Limerick and School of Music Performance 11th to 13th
Vintage & Handmade Christmas Craft Fair at the Milk Market Sunday 13th December
Christmas Eve Week Thursday Market 17th December 2015 feat. Irish Chamber Orchestra

 

– Sing Out With Strings
Transition Year Market Launch Friday 18th

 

December
Lourdes Charity Cycle Choir Saturday 19th December & St Michaels Choir
MidWest Spina Bifida and Capriccio String Quartet Sunday 20th December
Walking on Cars Live at the Big Top Sunday 20th December
Smart Travel Sponsored Bike Safety and Repair Taster Sessions
Wreaths, holly, decorations and unique Xmas gifts
Taize Choir Wednesday 23rd December
Multiple Christmas Choirs and Carols sponsored by Mari's Café the Milk Market
Christmas Kids Colour in Competition Sponsored by Mari's Cafe; templates available by email, schools & at the Milk Market
Colourful Stalls/Shops with a festive fest of foods and drinks
Multiple Community Attractions and Choirs 21st to 24th
Fabulous Fashion and Crafty Craft with a Christmas twist
Collection point for your old 1c and 2c coins to serve multiple good causes
Multiple daily raffles and competitions
Festive produce; Minced Pies, Puddings, Christmas Hams Chestnuts, Brandy Butter, Christmas Deserts/Baked Goodies and least not forget some good old sprouts from our seasoned vegetable traders while be at the ready for all to enjoy and savour.
So make sure to call to Christmas at the Milk Market 2015 were everyone is welcome!! Love Your Local Market, Love Limerick Milk Market and Support Local
Please email [email protected] for further details, See us on Facebook, Twitter and Instagram
For further details please contact
David Fitzgerald
Limerick Milk Market