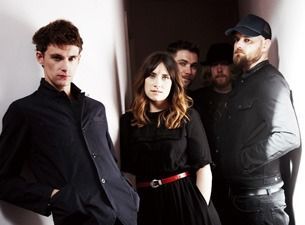 This is an over 18's event. Ireland's best-kept secret Walking on Cars announce their biggest headline show in Limerick Live At The Big Top. They recently celebrated the release of their second single Always Be With You.The follow-up to Hand In Hand – an Irish iTunes chart topper which led to support from Radio 1 tastemaker Zane Lowe as well as XFM – Always Be with You takes on a weightier tone than its forerunner. Combining the band's signature balladry with sinister, underlying urban beats, it's a surging anthem brim-full of rock riffs.
Hailing from the tiny Irish coastal town of Dingle, these Irish chart toppers have been selling out shows for the past year, amassing a huge live and online following. Previous single 'Hand In Hand' was an iTunes #1 and remained in the iTunes Top 10 for a number of weeks after release.
The band's videos (you can view them on YouTube HERE with over 1.7 million views already!) provide proof of their skill at intercutting serious themes with sharply outlined narratives and images.
Buy Tickets from Dolans here » Tickets are €23
About Walking on Cars
Walking On Cars are creating sounds as beautiful and dramatic as the landscape that envelops them. From the Dingle Peninsula, the five creatives friendship gave way to a tuneful collaboration, borne out of a desire to write music. With songs reflecting both the isolation and consolation of Dingle, this year Walking On Cars look set to add to their increasing number of admirers.
Singer Patrick Sheehy is comfortable to characterize their music with the ambiguous description "powerful and almost pop". Pushing the sound higher, Sorcha Durham (pianist) and Dan Devane (lead guitar) give life to these Melodic imaginings. Paul Flannery on Bass guitar and drummer Evan Hadnett provide an intelligent and bodily support to their carefully crafted songs. Central to the house that they share is the rehearsal space, where each of The five can document song ideas at anytime – " an advantage" of their environment and something not possible living in a city.
Since their formation just over 12 months ago, Walking on Cars have toured across the country with workmanlike dedication to their craft, developing their passion for playing live and with standout performances at many festivals in 2012.Walking On Cars are set to return to many more festivals this summer including Sea Sessions, Castlepalooza and Indiependence.
With the release of their debut EP " As We Fly South" produced by Tom McFall (R.E.M, Snow Patrol, Bloc Party, Editors) and high profile performances (including The Late Late Show, Other Voices IMRO Other Room, Comic Relief Does Dublin in Vicar Street, And the recent chart and YouTube success), it cannot be long before Walking On Cars are heard far beyond the most westerly tip of this island