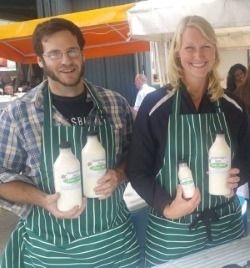 Crawford's Farm is a small, certified organic farm dedicated to regenerative farming and production of the highest quality and most nutritious food. The farm is family-run by Owen and Mimi and, together with their farm animals, they produce and sell the most delicious raw milk, raw cream, raw country butter and pasture raised meats.
The raw dairy products come from Crawford's small herd of Irish Shorthorn milking cows, who produce a rich creamy milk. The milk is filtered, chilled and bottled as a healthy and natural product that is not homogenised or pasteurised. Cream is separated in small batches throughout the week and butter is handmade once a week.
The cows are milked throughout the 10-month grazing season so that the forage requirements of the cattle are synced with the growing seasons. This produces the most nutrient dense, creamy and yummy dairy products. For supplemental feed (above and beyond the farm's luscious grass,) the farm animals are fed a mixture of the wholesome grains grown on the farm. These organic cereals include a heritage variety oats, and combination crops of peas, barley and wheat.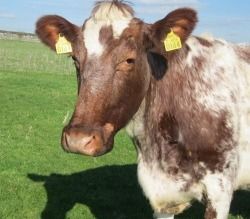 Crawford's organic meats can be pre-ordered for collection at the market. They include chicken, beef and pork/bacon (seasonally). Owen and Mimi's dedication to regenerative farming means that all parts of the animals are used, including the offal, giblets and bones. These traditional foods are extremely nutrient dense and high in healthy amino acids, vitamins and minerals.
Between the beginning of March and mid-December each year, you can find Owen and Mimi at the Milk Market every Saturday at their stall in the corner near the Cornmarket Row entrance.
Contact Details:
Name/Owner: Owen and Mimi
Email: [email protected]
Website: www.crawfordsfarm.ie
Mobile: 0870985469
Location: Corner near Cornmarket Row entrance
Opening Hours:
Saturdays 8-2pm (March thru mid-December)