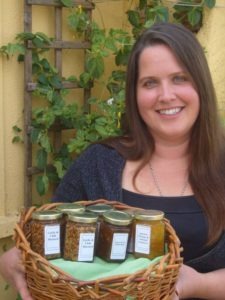 Fancy some Bombay Tomato Pickle, or how about some Chocolate and Raspberry preserve?
Theresa Storey's eclectic Green Apron stall offers a fabulous range of award winning jams, marmalades, chutneys, ketchups, sauces, herb mixes, butters, mustards and pickles, all made using secret family recipes.
They even sell traditional or herbal tea, grown from 400 tea bushes on the family farm.
Theresa's parents, Ed and Barbara, started in the Milk Market in 1977, selling produce from the family farm in Newmarket on Fergus, where they ran one of the first 'sustainable living' farms in the country.
The family later moved to a farm in west Limerick and Theresa branched out with the establishment of The Green Apron in 2004. Theresa's small Artisan Preserve company, has won seven international Great Taste Awards and 15 Blas Na hEireann Awards, and the Green Apron is listed in the McKenna's Guide and in Georgina Campbell's Guide.
"Our small farm is situated in Derryclough, Ballingarry, County Limerick, overlooking Knockfierna, the famous fairy hill. Our preserves are made in our farmhouse kitchen. The preserves are made in small batches from home grown, wild and locally sourced produce wherever possible and are made using traditional methods. No artificial preservatives, colours or setting agents are used," Theresa said.
"Our relationship with the Milk Market goes back over 40 years. It was great fun growing up on a farm with parents who were really ahead of their time in practising sustainable living. We had all kinds of animals and produced all our own meat and vegetables. So it was a natural thing for me to continue with my own natural products.
"When I set up The Green Apron, my husband joked that the green apron was like a superhero cape that gave me superpowers and allowed me to leap tall buildings in a single bound. I don't know about the superpowers bit, but I put on my green apron and we make pickles, chutneys, jams, mustard. We produce flowers, vegetables, fruit."
Theresa also produces books. The first of The Green Apron cookbooks Fruit on the Table: Seasonal Recipes from The Green Apron Kitchen was published in 2016 by The O'Brien Press. Critically acclaimed and a top 10 bestseller, it won a national award, and was also a finalist for the international Gourmand Award.
"We get people of all ages coming to our stall in the Milk Market from college students all the way up to elderly people who used to buy products from my mother in the market. I live a mile away from Glenwilliam Castle, where my mother lives and we grow a lot of our fruit there. It's a connection to family and to the land, that I'm proud of. We have won a lot of awards – such as Blas Eireann awards for our Bombay Tomato Pickle or our Chocolate and Raspberry Preserves – but the real recognition is seeing customers come back, again and again. It shows we are doing something right."
Read The Green Apron blog www.thegreenapron.ie
Contact Details:
Contact: Theresa Storey
Tel: 087 9808853
Email: [email protected]
Website: www.thegreenapron.ie
Location: Ballingarry, Limerick
Opening Times
Saturday 8am-3pm