Irish & Continental cheeses. Coffees, teas, pastries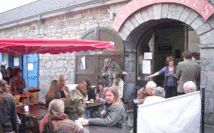 A coffee and cheese shop that is an institution for Milk Market fans for over a decade. Choose from a selection of local and imported cheeses while taking in the market atmosphere over a sumptuous coffee.
Green Acres is a cheese and coffee shop owned and run by Mari Hussey-Murphy. Mari has been operating the business at the Milk Market for many years and her shop is hive of activity for her many loyal customers on market days.
With a range of 95 different varieties including all kinds of cow's, goat's, sheep's and even buffalo cheese available, the cheese lovers of Limerick are well catered for at Green Acres.
Take the time to enjoy the atmospheric buzz at Mari's shop and sample her delicious range of coffees, teas and tasties while being entertained by the local "in-house" musicians.
At the Milk Market
Green Acres at the Milk Market is in Unit B and is open Friday to Sunday and on Bank Holiday Mondays.
Contact Details:
Contact: Mari Hussey-Murphy
Location: Milk Market Unit B
Opening Times
Fri: 11.00 to 19.00hrs
Sat: 08.00 to 16.00hrs
Sun: 11.00 to 16.00hrs
Bank Holiday Mondays: 11.00 to 16.00hrs