Home » Stalls & Shops »
Arts, crafts, second-hand clothes. All proceeds for charity.
One of the great characters of the Milk Market, Ann Curley has operated her charity stall under the Mungret Court Arch for more than 30 years.
Curley's Charity stall is often the first encountered by those entering the Milk Market through the Mungret Court Archway.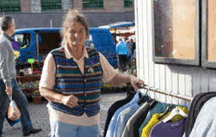 With 100% of the produce on sale recycled or second-hand, Anne's stall is a haven for the curious or those seeking an unexpected bargain.
Racks of "worn once" ladies apparel, comics, books, toys and assorted bric-a-brac can be browsed through, while engaging with the ever popular and affectionately known "Curley".
All proceeds from Ann's charity stall go to the Garryglass Children's Holiday Home in Ballycotton, Co. Cork which she helped establish a number of years ago. Each summer Ann brings up to 45 local children to Garryglass for a welcome break by the sea.
Ballycotton has become the focus for a summer adventure that has influenced so many of the local children, many of whom might not have had any opportunity of experiencing such a marvelous holiday. One of Curley's major triumphs has been to secure ownership of the house so that the future of the summer camp project is now secure.
At the Milk Market
Curley's Charity Stall is at the Milk Market every Saturday at their stall at the entrance to the Mungret Court Arch.
Opening Times:
Sat: 08.00 to 16.00hrs
Sun: 11.00 to 16.00hrs
Contact Details:
Ann Curley
Mobile: 061 452108
Location Mungret Court Arch, Unit E