A wealth of artisan breads freshly baked every day.
One of the Milk Market's most popular stalls, ABC operated by expert baker Paul Walsh offers a vast range of artisan and savoury breads, made from the finest ingredients and baked fresh each day.
With the stall manned regularly by expert baker Paul Walsh, the display and smells of freshly baked bread that greet the passerby are truly memorable.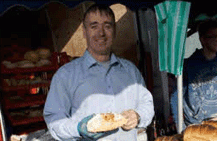 On most market days here, you can expect to find a wealth of treasures like the delicious Italian ciabatta, rustic French baguettes, corn bread with chilli, stoneground wholemeal, cheese and tomato sourdough, ordinary sourdough, multi-grain and seed breads, sundried tomato and fennel, crusty granary, wholemeal with poppy seeds, hazelnut loaf and a superb choice of health breads which includes black seed bread with golden linseed, sunflower seed and sunflower oil, Omega 3 bread, spelt bread, rye and sourdough rye, health loaf with pinhead oatmeal, wholemeal and molasses and much more.
For those with a sweet tooth, ABC also stock fruit soda bread, cherry scones and sultana loaf.
Paul's speciality is a superb range of yeast breads for which there are many devotee's at the Milk Market.
At the Milk Market
The Alternative Bread Company is at the Milk Market every Friday and Saturday at stall 30.
Contact Details:
Contact: Paul Walsh
Tel: 021 4897877
Location: Milk Market Stall 30
Opening Times
Fri: 11.00 to 19.00hrs
Sat: 08.00 to 16.00hrs