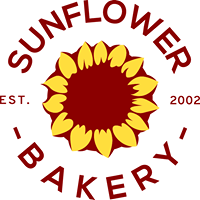 We all like a bit of savoury or sweet on a Saturday morning in the Milk Market and Vi Russell's Sunflower Bakery offers delicious handmade, additive-free breads, cakes and savouries.
A trained chef, Vi is from Ayrshire in Scotland, but moved to Ireland in 1990 after meeting her Galway-born husband to be, Pat McManus, in London. They made their home in Kilfenora, before moving to East Clare, from where they have been producing their signature breads, pastries, and cakes for the Milk Market since 2002.
The Sunflower Bakery also operates at Ennis Farmer's Market on Fridays and they are currently in the process of moving their operations to a shop in Ballycummin in Limerick City.
"My son Adam is 24 and he's involved in the business. He has been the driving force behind the move into Limerick city. We already bake all our bread from the unit in Ballycummin, which is next door to Alfie's bar. Our bread sales, particularly of our Sourdough, are very strong and we supply health food shops, cafes and restaurants as well as our Saturday trade in the Milk Market.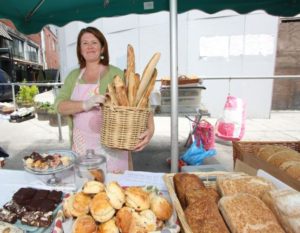 "Everything we make is additive-free. We only use organic flour, free range eggs and Irish butter. We don't use anything that's not natural. We have a nice garden where we grow our own fruit and vegetables which are used extensively in baking. We do a few savoury products – a range of quiche-type tarts. We use an enriched bread dough in the bottom of our tarts. We do Stromboli which is a variation on the theme of pizza. Our Stromboli is very popular because it's got quite a lot of filling and a nice base.
"We do a range of pasties – spicy veg or leek potato and cheese. Everything we do is made by hand and we don't use any colourings or preservatives."
Vi and Pat have two other sons, Jamie, 22, who helps out with the business and Cory, 18, who Vi hopes to enlist for help in the future.
"It's a real family business. I trained as a chef and I worked in Scotland until 1983 and then I went to London where I worked in lots of places. I trained as a general chef, but I always had an interest in breads and pastries. Pat didn't have a food background – he was a builder, so he's gone from one type of mixing to another."
Vi produces a comprehensive range of sourdough breads, including granary, rye and white.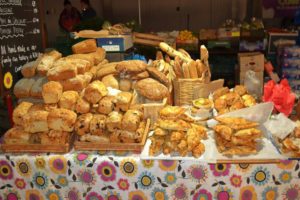 "People want to move away from processed bread and they like our homemade sourdough, as well as the multi-seed breads, spelt bread, and ciabattas."
The Sunflower Bakery also boasts an eclectic range of tea cakes, and larger cakes for all the family.
"The way people shop in the Milk Market has changed. People used to come in early and do a proper shop, fill up their bags. Now you see more young people coming in and it's more of a social thing, where they might buy a cake or pastry to have with a coffee upstairs. There's a lot of competition with a lot of bakers in the market, but we have a loyal following who appreciate that we've been producing healthy breads and pastries f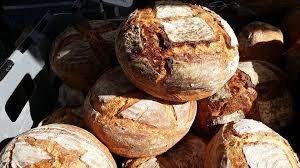 or more than 16 years in the Milk Market."
"Everything in our cakes and pastries is made with natural ingredients – we use the rind and juice of organic lemons, for example. If we have to have something pink, we used raspberry. I love taking a natural ingredient and making it into something special."
© Brian Carroll Communications