Home » Stalls & Shops »
Handcrafted silver jewellery products.
Edel O'Shea's Virgo Jewellery & Accessories sells jewellery made from silver and semi precious stones such as turquoise, black onyx, red coral and rose quartz. Edel also hand-makes her own jewellery with these stones, Swarovski pearls and fresh water pearls.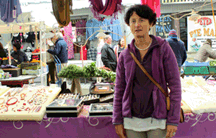 Edel, a Galway native who lives in Limerick, has always had an interest in creative arts and travels the world to find unusual pieces and source her amazing gems and stones.
Having opened a shop in Thurles in 2005, she started making her own bespoke pieces for brides, bridesmaids and special occasions. She handpicks each piece and has pearls and gems to match every colour of outfit.
Edel has had a presence in Limerick's Milk Market for many years, where her stall is a popular and attractive feature.
Edel designs custom-made commission pieces from silver whether its necklaces, bracelets, bridesmaids or brides jewellery or simply something for everyday wear, you will be delighted with the variety of stones and pearls available from Virgo.
At the Milk Market
Virgo Jewellery & Accessories is at the Milk Market every Friday, Saturday and Sunday at stall 5.
Opening Times:
Sat: 08.00 to 16.00hrs
Contact Details:
Edel O' Shea
Mobile: 087 6897735
Location Milk Market Stall