Quality hand made cakes and breads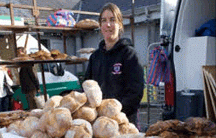 The Gourmet Tart Company is a Galway-based bakery run by Michelle and Fintan Hyland. The business was started in 2001 selling cakes from an ironing board in Limerick's Milk Market and now boast 3 shops in Galway city and are due to open a 4th shop and restaurant in June 2010 in Salthill, Galway.
Fintan and his staff travel to Limerick every Saturday to satisfy the demand of their very loyal customer base. These customers have remained with and supported The Gourmet Tart Company to expand over the past 9 years. It now employs approximately 30 staff and is currently recruiting 8 new staff for the new shop and restaurant in Salthill. The bakery itself has moved from a 2 bedroomed apartment in Limerick to a small unit in Galway city and finally 3 months ago moved again into the new 8,000 square foot dedicated unit in Ballybane, Galway.
Quality and Range
Eight bakers are employed to work through the night to ensure maximum freshness. All the products are made using artisan techniques and are completely free from any chemicals. The quality of the product is of paramount importance to Fintan and he feels that this unwavering commitment to quality, combined with a fair price is the key to the success to date. There is constant updating of the range and new products are introduced regularly.
Back in 2001 when the Gourmet Tart Company started at the Milk Market they produced and sold just tarts and tartlets and some scones. Now there is a wide variety of products including croissants, brioche, multiseed brown bread, apple tarts, rhubarb tarts, quiche, baguettes and pies.
Fintan states his gratitude to his Limerick customers that have supported and encouraged the expansion of The Gourmet Tart Company throughout the years. Without them he says "we would not have had the courage to expand the business as we did. We have a great fondness for Limerick as a result and hope to continue trading in the Milk Market for many years to come".
At the Milk Market
The Gourmet Tart Company is at the Milk Market every Saturday at stall 19.
Contact Details:
Contact: Fintan Hyland
Tel: 091 588384
Email: [email protected]
Location: Milk Market Stall 19
Opening Times
Sat: 08.00 to 16.00hrs