Organic vegetables, salads and herbs. Medicinal herbs, massage oils, ointments and creams
Organically certified by IOFCA, Noinin produce a range of home-grown vegetables, salads and herbs for home cooking, together with over 100 medicinal herbal products including tinctures, ointments & creams, essential oils, lotions and bath milks.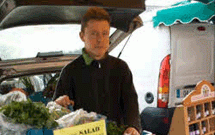 Noinin Herbal Products is a company owned and operated by Tobias Oertel and is located in East Clare. Tobias arrived in Ireland from Dresden in the 1990s and began to develop a unique product range on his upland farm on the shores of Lough Derg.
Noinin's operating ethos is to create products that are as beneficial as possible.
Organic Salads and Herbs
On their farm they grow a range of salads, vegetables and herbs including spinach & kale, basil, mint, oregano, dill, rocket, parsley, coriander, rosemary, thyme and sage.
All the plants used are grown organically by them using the biodynamic method, harvested in the locality away from sources of pollution, or in some cases, purchased from reputable organic suppliers.
Herbal Remedies
They take great care with the formulation and manufacture of every product. By making small batches they ensure that products are as fresh as possible. Their products enjoy endorsement from massage therapists and herbal practitioners. Customer comments are unanimously favourable and Noinin trust your experience will be similarly positive.
Only the highest quality ingredients, organic wherever possible and from trusted and reliable sources are used in all manufacturing.
At the Milk Market
Noinin Herbal Products are present at the Milk Market every Saturday at stall 25. Their website is www.Noinin.ie
Contact Details:
Contact: Tobias Oertel
Tel: 061 640822
Email: [email protected]
Website: www.noinin.ie
Location: Milk Market Stall 25
Opening Times
Sat: 08.00 to 16.00hrs