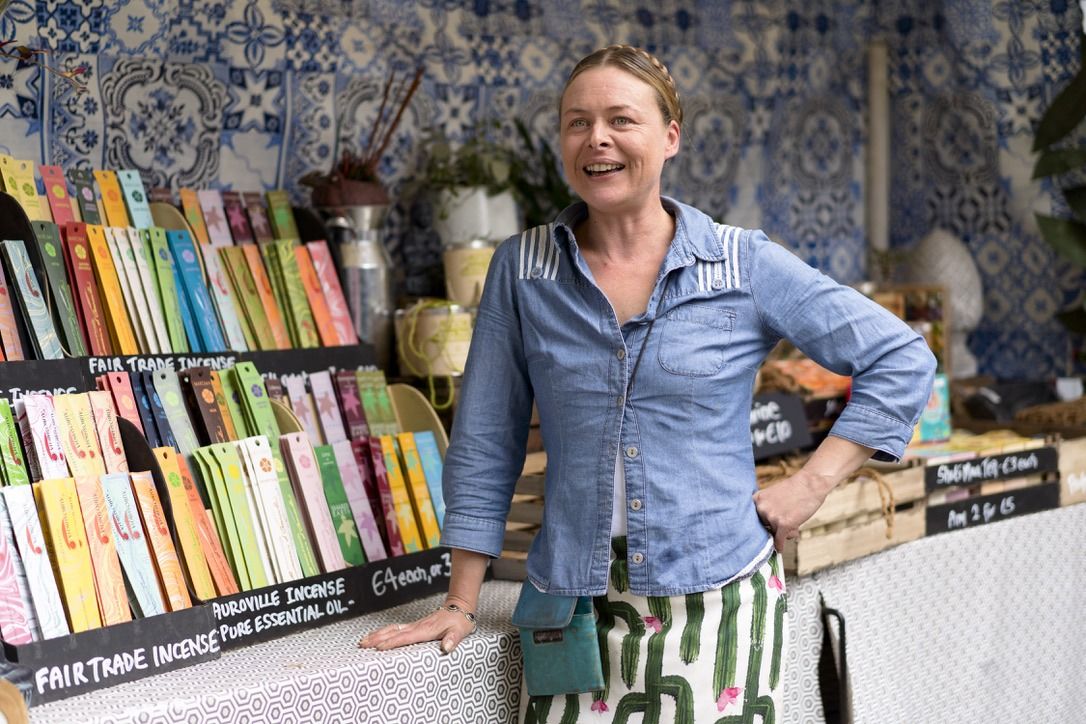 You don't have to be an expert in plants and flowers to have heard of Kew Gardens, the London home of the largest and most diverse botanical collection in the world.  So, while most people will have heard of Kew Gardens, many will be surprised to learn that Kew Gardens' former plant buyer is now running a flower and plant stall at Limerick Milk Market.
Tara Maloney, owner of White Dove Nurseries, is full of surprises. Ever since she started out her working life as a DJ specialising in drum and bass sounds in London's early nineties rave scene, she has been mixing things up, offering her own artistic take on things.
Her White Dove Nurseries stall is one of the most attractive in the market, selling original plant and flower creations that you simply will not find in supermarkets or most commercial florists for that matter.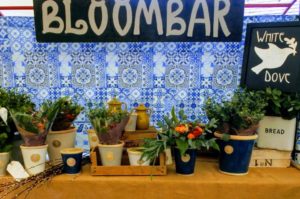 "My great grandmother on the Ryan side used to be one of the first people selling turkeys in the Milk Market. She would be the person who would send the turkeys back into the shed to be plucked. My mum is from Limerick but left here in the mid-sixties. She was the eldest in the family and decided to run away to London. Although I sound English, I've probably spent every summer here from when I was about three years old to 14 and the family is quite well known in Limerick. My mother is back living here now and she runs a clothes alteration shop in Foxes Bowe."
Tara started her White Dove Nurseries stall in the Milk Market in 2016. She returned from London with her husband and bought a house and land in Templeglantine, near Newcastle West.
"When we moved here we started growing plants, flowers and vegetables. We weren't sure what was going to float the boat for us. There is a huge standard in vegetables in the Milk Market so we started to concentrate on unusual ornamental plants and flowers."
At first she toyed with the idea of doing something with her mother, something that was a mix of fashion and horticulture. They never did work together but the idea of collaborating led to Tara coining a new phrase for what she does  – hort couture, a play on fashion's haute couture.
Hort couture is actually the perfect description for her plant and flower creations – it's the horticultural equivalent of high fashion, propagated flower mixes and exotic plants that are visually stunning, and very artistic in nature.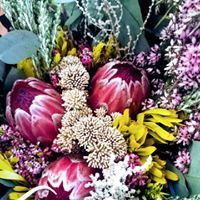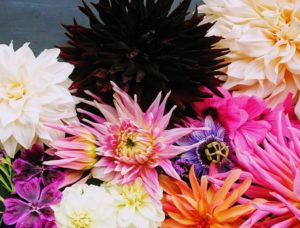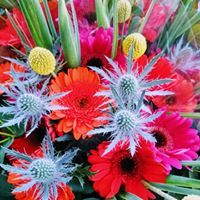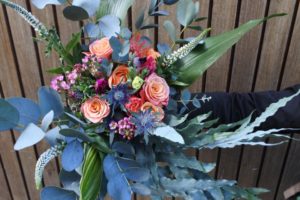 "My style is a little bit more bohemian and natural and going with the seasons. I came up with the phrase 'hort couture' as a joke really, but it's stuck. I think the best compliment I've had is some people come from Dublin and Waterford to the Milk Market just to buy an unusual bunch of flowers. Some commercial florists are trying to be a bit different but they are fighting against years of training which tells them to just make blocks of reds and whites, whereas this requires a bit of a jump in thinking – artisan flowers, that are more from the garden rather than those that are grown in tunnels and never actually see a natural landscape; things that are seasonal; unusual plants whether they be houseplants or perennials; or things that we brought with us from England, propagated in Templeglantine and now sell in Limerick."
"I have a really good amount of regulars who keep me going, so I don't do fake things. There's the UL students that come from Spain, France, Japan, China – they all see weird unusual plants on my stall that they recognise from home. Then there's the Millennials – they've got very much into the plant trend for apartments. Of course I get lots of nice well to do ladies and their daughters who know what they like, and nice gentlemen who know what their wife likes."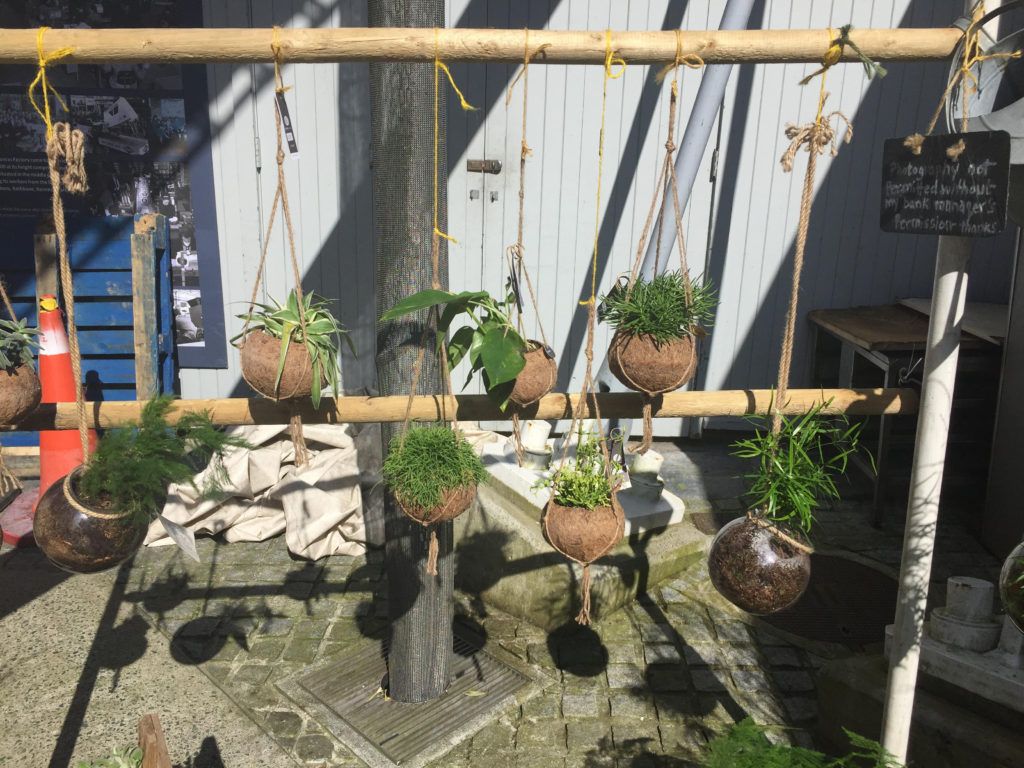 One of her most popular products is Kokodama (above) – named after an ancient Japanese art form that existed before bonsai.
"The Japanese would grow plants, wrap them in moss and grow them as a little living thing. So what I do with Kokodama is I kind of update that idea.  It's like a terrarium, a glass bowl with moss inside covering the roots, and you can hang them from walls and grow the plants. This is one of the things that UL students are always asking about – what's easy that I can grow in my house. Hanging plants is a big trend for Millennials."
Other big sellers are the Japanese Money Plant, and the String of Pearls plant.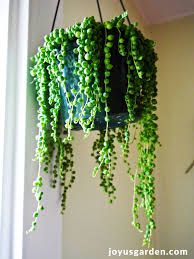 "One of the things I get absolutely out of my tree about is plastic plants in restaurants. You either do it with the real thing, or don't bother.  Flowers are meant to give you joy, and they also replace carbon dioxide, but plastic plants do none of that, plus they are more expensive. Take the String of Pearls plant – the real thing costs approximately €30 from my stall, but the plastic version is in shops in Limerick for €157, so it's one of those weird things where you can buy something that's real and a rare specimen for like a fifth of the price of the plastic version."
Tara sells an exhaustive range of exotic flowers – a black cow parsley, which has white flowers and black leaves, for example.  The bouquets at White Dove Nurseries are bigger, more varied and artistic. In a single bouquet you might find Irish grown eucalyptus, locally grown heather, blue thistle, show mums, snap dragons, wax flowers, and gelded roses. A typical bunch will cost approximately €35 and they last much longer than a bouquet bought in a supermarket.
"Supermarkets shout about a bunch of flowers lasting five days – but my bunches can last for three to four weeks. In supermarkets they put them in places that are too cold which means they only last for a few days, plus they tend to put them beside vegetables which give off ethlyene. Supermarkets have ruined the trade in a lot of things."
"I got into horticulture out of vanity. I used to be a DJ and I'd been away travelling and I'd quite a good tan, so I was thinking what can I do where I can keep my tan? So there was a garden centre at the end of the road, and they had a part-time job going so I just started working there. And because I'm a bit of a geek I gelled with the plant world of names, species and learning things. The internet had just become available at that time, so I started teaching myself about horticulture, flowers and plants. After about 15 years, I began working at Kew Gardens which is one of the world's biggest botanical gardens. I was the plant buyer for Kew Gardens – so if they needed a rare plant bought or shipped to the gardens, then I would do that. At the orchid festival every year they would need about 1.5 million orchids, so I'd be sourching those. I'm just a girl selling flowers in the Milk Market, but I was once quite high up in the industry in London."
The expertise tells and Tara gets a lot of wedding bookings from her Milk Market stall.
"I used to do wedding shows, but I found I'd get more customers here for weddings from my stall than I would from any of the wedding shows. I can also offer advice and tips for your home and garden, but not the physical labour – my body's not able for that anymore!"
" I don't do any other markets because I don't drive. Growing up in London I'd rather go out nightclubbing that pay for driving lessons and now it's hitting me where it hurts. My husband drives me in before his work. I get here at 7.45am on a Friday and I stay in my mum's on a Friday night and I get in here around 5.30am on a Saturday.
"I'm a bit of an eejit who takes far too much pride over the stall but it's all or nothing with me. Retail is turning from a service industry to an experience industry. In the old days, it used to be just buying stuff. When people are out shopping now they want to feel like they've had a good time and a good experience."
Whether mixing music or flowers, Tara has planting seeds of change all her life, and her hort couture is an experience you're guaranteed to enjoy.
Brian Carroll Communications website