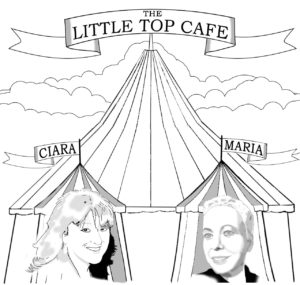 The Little Top Café sells plant-based foods with great flavour combinations, sold in biodegradable containers, so you can satisfy your taste buds, your conscience and Mother Nature all in one go.
You'll find the Little Top Café upstairs at the Milk Market from 8am to 2pm on Saturdays. But come early, because this is one of the Milk Market's most popular stalls. If you want evidence of that, just look at the empty plates in these before and after shots.
The Little Top Café was officially launched in December 2018 by the Mayor of Limerick, Cllr James Collins. A joint venture between Maria Collins Harper of Harpers Coffee House fame, and Ciara Brennan of Happy Food at Home, the Little Top Café has already proved a great success in drawing people upstairs to the mezzanine area where you can enjoy great food, an even better atmosphere, and as much time as you like people-watching the milling crowds below.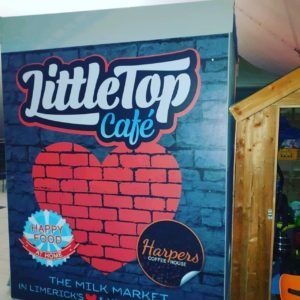 Harpers Coffee House has been a renowned permanent fixture in the Milk Market for several years, with its popularity evidenced by the amount of customers willing to queue for their caffeine hit. There are less queues upstairs, and the coffee is served in biodegradable cups, so if you want a short-cut to your coffee hit, and a boost to your climate change credentials, then pop upstairs to visit Maria. Beside her in the Little Top Café, Ciara presents a feast for the eyes with her colourful collection of plant-based meals. A trained chef, Ciara only cooks food she herself likes to eat, so the people of Limerick should be grateful for Ciara's eclectic taste.
You'll find black cabbage, kale and raspberry salad; bean saffron stew; homemade pizza; a selection of samosas; citrus quinoa; protein balls; kids treats, tabouli, lime broccoli, vegetarian lasagne, and more. The dishes vary, but the quality doesn't. It's top notch every time, and you don't have to be a Vegan to try it or enjoy it. All produce is locally sourced.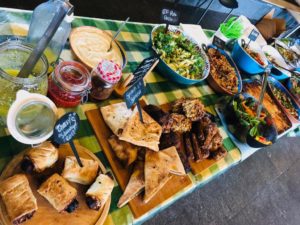 "I've been a vegetarian all my life. My mum reckons it's because I saw a dead pheasant on the dinner table  when I was very small and since then I did everything I could not to eat meat. Anything that resembled meat on my plate ended up on the floor or in the dog's mouth. At the same time, I've always had a passion for food and cooking in particular. That passion led me from Dublin to Shannon where I studied Hotel Management so that I could become a chef," Ciara said.
"During college, I had work placements where I trained in various types of kitchens from Cafés all the way up to five-star restaurants.  It was a strange time for me and I found that my vegetarian diet just wasn't compatible with my chef training because I had to cook and taste meat in order to satisfy my customers. I was supposed to be living the dream, working in fabulous restaurants in cities such as Geneva but it actually dulled my passion for cooking so much that I gave it up professionally. Instead, I moved into Human Resource Management.
"The passion for cooking never went away and when my daughter Shaena and I decided to go vegan in 2016, I had a light bulb moment –  why don't I cook what I want to cook? I decided to put all my influences, experiences and passions together and cook again, creating "Happy Food at Home" in October 2016..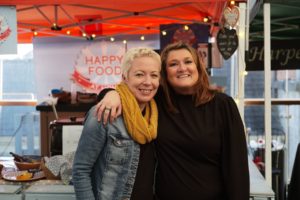 "I passionately believe in creating great flavour combinations for plant based dishes. Happy Food at Home creates food full of love, adventure and surprise. I really want to convince you all that plant based food, is delicious, healthy, balanced and you will not miss the meat."
The Little Top Café is just one of seven stalls or pop-ups that Ciara operates under the Happy Food at Home brand during the week. In addition to Ciara's broad and enticing range of dishes in the Milk Market, you can also buy a Foodie Bag, which includes a recipe and all the ingredients, so you re-create Ciara's dishes yourself at home. Ciara is also the author of a Vegan cookbook, Happy Vegan Christmas.
Ciara also operates a pop-up stall in the Castletroy Shopping Centre from 9am to 2pm Tuesday to Thursday every week. On Fridays, you'll find Ciara at Ennis Farmers Market. During the college year, you'll find Ciara's stall at the Lime Tree every Thursday. And coming soon, you'll find Ciara's food as part of a Milk Market on Tour at Bedford Row. Look out for special cooking demonstrations throughout the year.