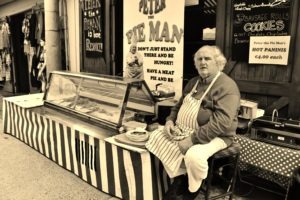 If you fancy something hearty on a Saturday morning – then check out Peter the Pie Man's Steak and Guinness pies, but beware, his sense of humour is just as saucy.
When I ask Peter Gibson how he and his wife Clarissa Webb met, he doesn't hesitate: "In bed".
After a long pause, he adds: "Be sure and use that in the article."
Peter and Clarissa have been married 19 years, almost as long as they've been in the pie business.
"I once had to give a speech for a friend of mine who I said had been married for a blissful 25 years, which everyone seemed to think was funny, that you could be blissful for that length of time. So, Clarissa and I have been married a blissful 19 years."
Clarissa, naturally, is the boss, running operations from the industrial kitchen in their home in Clonmoylan on the border between Galway and Clare.
"She's the cook and the genius behind the whole thing. We've been at this 20 years. We started out with quiches and sausage rolls then we bought a machine in from the UK and tried our hand at pork pies and scotch eggs, but they were didn't go down well in Ireland at all. So we've moved on over the years."
Today you'll find the best pies in the Mid-West at Peter The Pie Man's Saturday stall at the Milk Market. There's four varieties of pie: Steak and Guinness; Chicken, Ham and Parsley; Duck, and during the Christmas hunting season, a Game pie.
Clarissa makes the pies with the couple's 17-year-old son Oscar, who has learned the trade by 'sitting with Nellie' – watching and learning at Clarissa's side.
In addition to pies, they also make ham quiche, vegetable quiche, Cornish pasty, vegetable pasty, sausage rolls, flapjacks, cookies, lemon drizzle cake, biscuit cake tubs, and country butter.
Born in Dublin to a father from Kilkee and a mother from Lisdoonvarna, Peter started out as a farmer, working land which he currently rents out in County Laois.
"I learned it was much easier to rent out the land than farm it. We've been at the pie business for 20 years and we've been in the Milk Market ever since the first weekend the roof went on in 2010. The market is unique. I doubt there's any market in Ireland, even Dun Laoghaire, which is Dublin's biggest market, or the English Market in Cork, that would have the kind of footfall you get in the Milk Market on a Saturday. You'll get 8,000 or so through on a Saturday. It's just a great tradition in Limerick of going to the market on a Saturday.
"Unfortunately, from my point of view, not enough of them are there to do shopping like in markets of old. If I could change anything it would be to get people to buy more from around the stalls instead of just picking up a coffee and a pastry. But that's the big social side of the market on a Saturday. It would be good if we could get people to come on Fridays and Sundays as well. My biggest customers are still women buying for their husbands."
Peter also runs a stall in UL on Tuesdays, in Kilkenny on Thursdays, and in Ennis on Fridays.
It's seven euros for an unbeatable pie – nothing saucy about that.