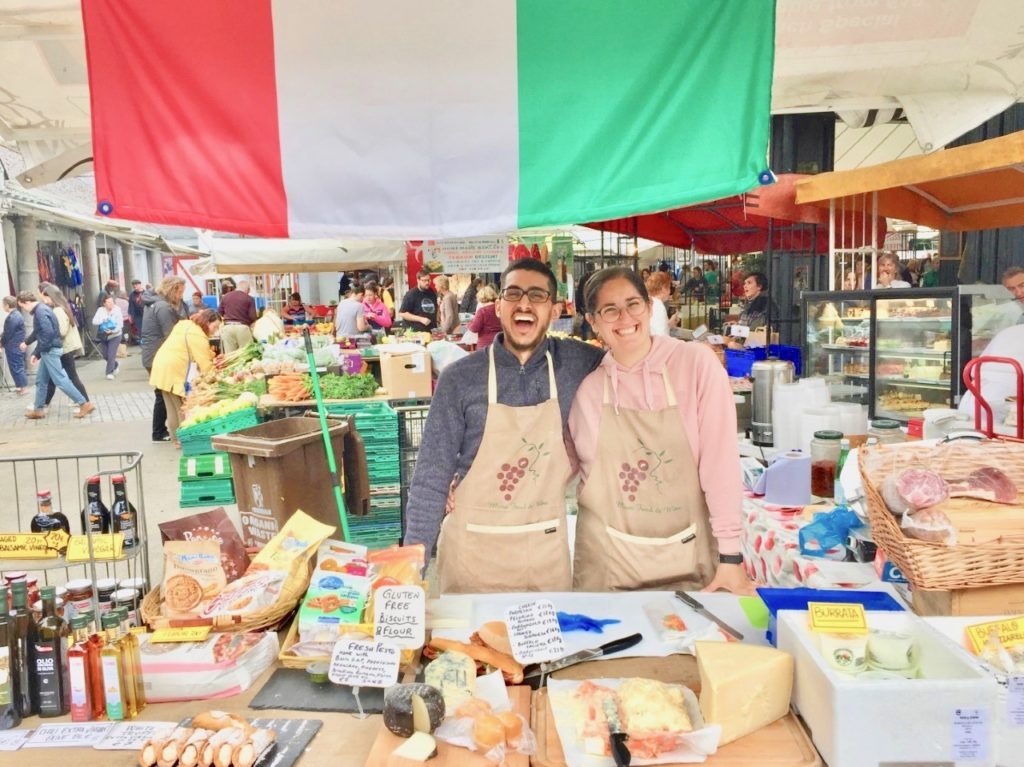 The Milk Market has an exotic mix of international food cultures but no market would be complete without an authentic Italian offering.
Andrea Della Greca's Moca Food & Wine stall brings you everything from cold cuts to cannolis.
Andrea hails from Tuscany, near the beautiful city of Lucca, which is famous for its renaissance walls and cobblestoned streets. He may have left his home and travelled the world, settling in Limerick in 2014, but Andrea has never lost the culinary tastes Italy is famous for. His breakfast every day tells as much: a cup of hot milk and Italian cookies.
"We import all the typical Italian foods – cold cuts, mozzarella, pasta and pizza flour. We know all our suppliers. We went to Milan to meet our suppliers in May so we know exactly where all our products are coming from. I don't buy anything but good quality Italian food that I like to eat myself."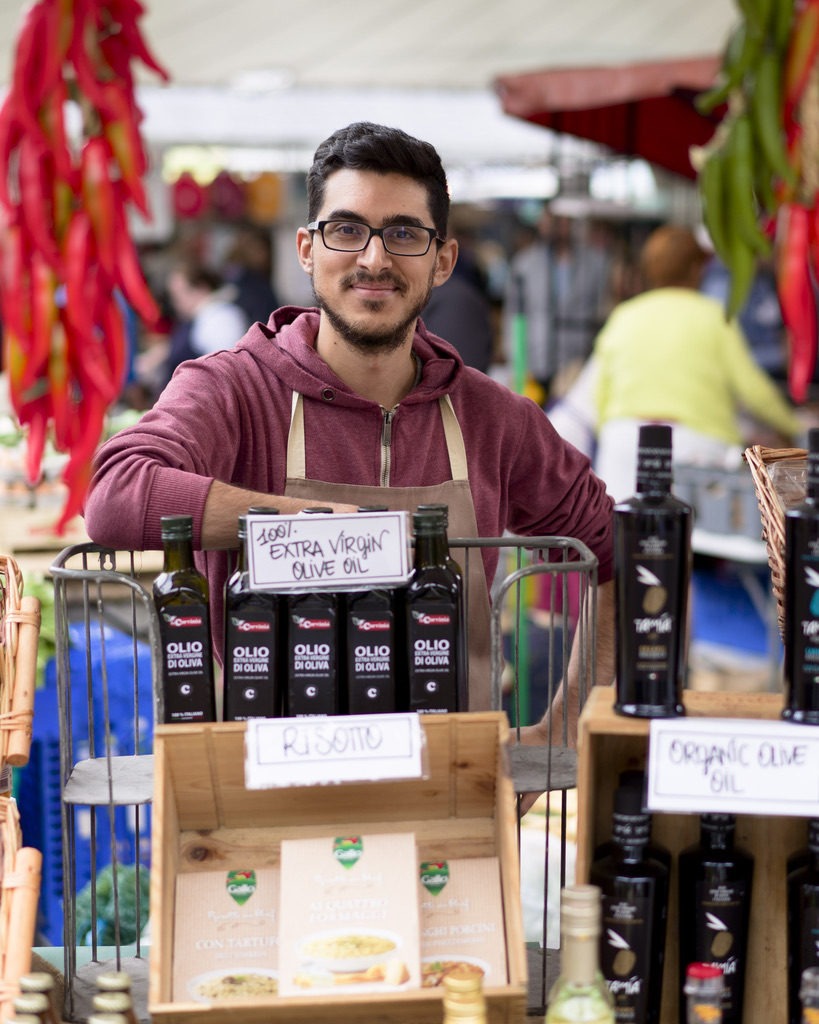 So how did an Italian from sunny Tuscany come to settle in Limerick, a city infamous – at least in Frank McCourt's books – for its rain.
"It was a bit of a culture shock when my wife, Lina, and I moved here but mainly for my wife. Lina is from Uganda. I had lived in the UK for a year and a half, so I knew what to expect – but the people here in Ireland are much friendlier than in the UK. Unfortunately the weather is just the same! But the people make up for it."
Andrea met his wife in Dubai.
"We were working in Dubai in the tallest building in the world. I was assistant manager of the restaurant and Lina was a receptionist. We met in 2011 at a party. Then we spent a year in Uganda in 2012, then a year in Italy, and we married in 2013. We came to Ireland because my wife speaks English and we both wanted to live in an English-speaking country in Europe so we chose Ireland and we are so happy we made that choice. 
"We moved here in February 2014. Now we have a daughter, Malaika, which means Angel in Swahili, which is one of the languages in Uganda. I am so busy I don't get back to Italy as often as I would like but my parents come over twice a year to Ireland, usually for three weeks in the summer and for ten days at Christmas. "
Malaika is only two and a half years old, so Andrea is a busy father, travelling 850kms a week, distributing Italian food to restaurants and hotels. The Milk Market is the only opportunity where the public gets to buy directly from Andrea, as its the only market he serves. 

"Having the opportunity to promote Italian food culture in Limerick thanks to the Milk Market gives me the chance to share my passion for food with other food lovers looking to recreate recipes they tried in Italy, and seeing their smiles the following week while they show me pictures of the dish they made is priceless."
"Moca Food & Wine was set up by another man who started the stall in the market and me and two business partners took over the business in March last year. Having a family isn't easy if you never see them, so after a decade working in restaurants in Europe and Dubai, I decided to reinvent myself and start over with this new adventure of running an Italian food import business in Ireland. Before it was a family run business, just two people involved, and they were really only distributing in two counties. Now we sell all over the west. I spend my life in the van; that's my house at this stage. I can drive 850kms a week, delivering to restaurants and hotels all over. Last year I drove 55,000kms, so I'm pretty tired!
"My work is very physical, I do deliveries during the week, lifting 25kg bags of flour and many more heavy goods all day long. It really destroys me, it's my free gym as I call it. On Sundays, I always go for a walk with my wife and daughter around our estate and if the weather is good it really is the best part of my week."
"Italian food is definitely becoming more popular all the time in Ireland. Everyone loves pizza, you can't go wrong," Andrea says.
Well, you can go wrong, if you don't buy the right ingredients and trust me there is absolutely no comparison between the mozzarella cheese you buy in a supermarket and the taste of Moca's mozzarella. It is like you were in Tuscany. And the same goes for the cold cuts – ask for the Spianata Calabra or Salame Nobile – you know instantly that you are eating top quality food.
"At the stall, we sell cold cuts, cheese, pesto, balsamic vinegar, oils, gluten-free biscuits and flour. We also sell sandwiches I have made up, or we can make up sandwiches to your taste on the spot. People like our Italian Paninis with buffalo mozzarella and a selection of cold cuts, garnished with extra virgin olive oil and sundried tomatoes, the perfect way to start the day. And our cannolis – a cylindrical fried pastry shell filled with Ricotta cheese – are really popular. I like to make a variant of the typical sweet delicatessen from Sicily. Traditionally you add a bit of sugar to the ricotta and top with chopped pistachios, but I replace the nuts with chocolate. People seem to like it."
We certainly do. Thanks to Andrea for bringing a slice of La Dolce Vita to the Milk Market.
See http://www.mocafoodandwine.com for more