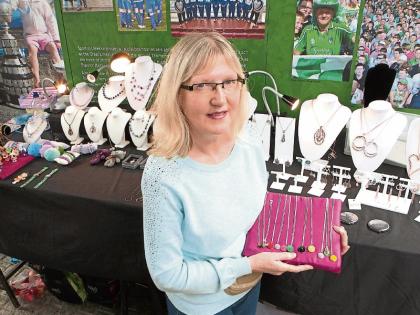 Limerick's Milk Market is famous for the variety and international flavour of its food stalls, but the market is also home to many gifted craftspeople, none more accomplished than Jane Neville, who has been selling her designer jewellery at the market for almost a decade.
"I make traditional necklaces with freshwater pearls and with fire polished Czechoslovakian crystals. I sell individual items, but my full sets – necklaces, ear-rings and bracelets – are also very popular," Jane said.
Originally from Farranshone, Jane Neville is one of the jewels in the Milk Market, but her love of jewellery came about by chance.
After 20 years working at Analogue Devices, Jane took a redundancy package. Shortly afterwards she was in Dublin with her two nieces.
"I was walking past a shop window and there was a sign for jewellery classes on Saturday mornings. So I went and I was hooked. I went to lots of different classes, moving up the levels. I went to one lady in Sixmilebridge for a year, moving up from novice to intermediate to advanced classes. Then a friend of mine who was a trader in the Milk Market asked me if I'd like some space on her stall. She was selling scarves and I had a small space to display a few items. I think I had six necklaces, six bracelets and six ear-rings on display. Then it kind of grew from there."
"Later on, another trader at the rear entrance to the Milk Market, asked me if I'd like to take half that stall. The trader who was using that half was pregnant and giving up the spot. I took it on around 2010 and then the trader who originally had the stall left in 2011, so I have the whole side wall of the alcove now for my jewellery. That's how I built my empire" Jane laughs.
Jane is a true child of Limerick city, walking three laps of Shelbourne Park most days. She loves the city so much she even found Castleconnell too remote. 
"When we first married we moved out to Castleconnell but I couldn't handle all that peace and quiet. I had to move back into the city. I live with my husband, Kevin, in Mayorstone. After years working in the corporate world with Analog, I love the freedom of making my own jewellery. Most of my trade is in the summertime and at Christmas. Jewellery can be seasonal because it's a big purchase. For the last couple of years, we have been getting a lot of tourists in the Milk Market – Italians, Spanish, Americans. They all buy from me."
She has plenty of Irish customers too, particularly women going to weddings or special events.
"I sell a lot of full sets – necklaces, ear-rings and bracelets – for weddings; for the bride, bridesmaids and the mother of the bride. They like my custom make necklaces with Swarovski crystals for the bride and bridesmaids. Swarovski crystals come in every colour under the sun, so it's great for matching jewellery to your dress."
"I design most of my jewellery but I also import sterling silver rings with semi-precious gemstones. I'm also an agent for a company in the UK called Love The Links. I sell their designer costume jewellery in silver and rose gold."
"A perfect day is when I create a new design for necklaces, earrings or bracelets and when I bring them to the Market that they sell that day. I also love when I repair a piece of jewellery for one of my customers and that when they see it they are delighted with the result."