Food Story – Profiles
Based in the Ballyhoura Mountains which border the counties of Cork, Limerick and Tipperary, Ballyhoura Mountain Mushrooms is an award-winning company run by Dr Lucy Deegan and Mark Cribbin. Whether supplying Michelin star restaurants like Chapter One in Dublin, small cafes or the home cook, Lucy and Mark have a very simple aim – to…
Read More ?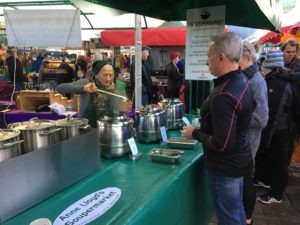 The Soupermarket is such a cool name it's a wonder nobody came up with it before. The soup stall at the Milk Market only uses Limerick suppliers for its soups, and primarily uses ingredients from other traders in the market.  Deacy Stanhope, 66, and his partner, Anne Fitzgerald, 60, have been running the Soupermarket since…
Read More ?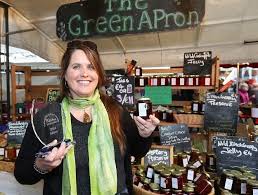 Fancy some Bombay Tomato Pickle, or how about some Chocolate and Raspberry preserve? Theresa Storey's eclectic Green Apron stall offers a fabulous range of award winning jams, marmalades, chutneys, ketchups, sauces, herb mixes, butters, mustards and pickles, all made using secret family recipes. They even sell traditional or herbal tea, grown from 400 tea bushes…
Read More ?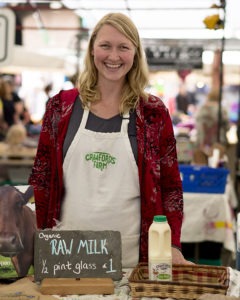 A short backstory is good when it comes to food. You want to know the source of the food, its journey in getting here to the Milk Market. After that, it's down to taste. Crawford's Farm milk comes from a small herd of Shorthorns in Cloughjordan, a herd so few in number, they have names…
Read More ?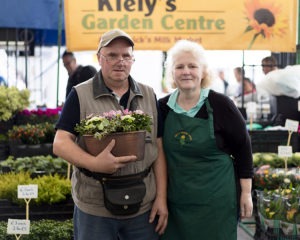 Gerry and Helen Kiely have been selling flowers and plants and providing gardening advice for over 30 years in the Milk Market. "Gerry used to come in as a young fella with a couple of geraniums on the back of bicycle in the Seventies during the summer months. His mother, Theresa, gave him his love…
Read More ?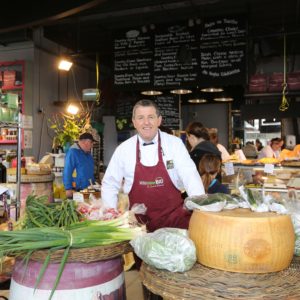 At the heart of the market is Peter Ward's internationally renowned Country Choice, a food emporium and purveyor of speciality foods, sold in season, and sourced from only the finest local and international providers. Peter and his wife Mary have been pioneers of fine food in Ireland ever since they established their  independent delicatessen, café…
Read More ?