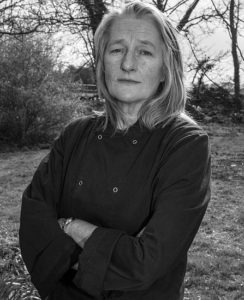 The Soupermarket is such a cool name it's a wonder nobody came up with it before. The soup stall at the Milk Market only uses Limerick suppliers for its soups, and primarily uses ingredients from other traders in the market. 
Deacy Stanhope, 66, and his partner, Anne Fitzgerald, 60, have been running the Soupermarket since September 2018, but have been operating an adjacent stall selling sausage and bacon rolls with fried onions for five years now. It too has a clever name, which plays on the pig's trotters theme –  Hot to Trot, 
"We only use local fresh grown vegetables in our soups. We want to support Limerick, to sell Limerick as a place with fantastic fresh food, so we only use produce from other market traders where possible, and if not, only from suppliers in Limerick. 
"We change the menu every week so we'll have three different soups every Saturday, everything from carrot, coriander and ginger to potato and thyme or fragrant Thai broths. All our soups are cooked in a professional kitchen, chilled overnight, then reheated in stainless steel bain-maries in the Milk Market," Deacy said.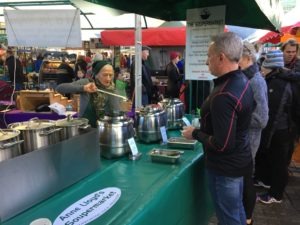 Anne Fitzgerald has a long history in the food business, and is perhaps better known as Anne Lloyd. Anne began in the food industry aged 17, cooking for the Duke of Devonshire on the Blackwater River. Limerick foodies will be familiar with her former restaurant, Lloyd's of Adare. She now runs Anne Lloyd Catering, which provides bespoke catering for dinner parties, weddings , funerals, and other family events. Her innate touch when it comes to both food and the business of food has seen her in big demand over the years. She has helped others to set up restaurants, including the Blind Piper in Caherdaniel. 
Deacy's background is in the equine industry. He was an amateur rider and assistant trainer for the famous Fred Winter, before running his own stud farm breeding thoroughbreds in Crecora. In recent years, encouraged by Anne, he's switched saddles to the food industry.
The Soupermarket offers a 16oz cup of soup for €4.50, which is fantastic value for a home-made soup sold in biodegradable cups. Larger quantities are available for people having dinner parties. The larger volume soups are sold cold, for later heating.
"Even our spoons are biodegradable," Deacy said, "We want everything to be as natural as possible. We don't have any preservatives or colouring agents, only natural products. We get our potatoes from Cecil Gallagher in Ballysteen, our carrots from Kildimo, and our herbs from the Quinns in the Milk Market. There are some things you can't get in the market but we really make every effort to only use local suppliers. It would be cheaper to get some stuff from wholesalers but people know we are selling a different, quality product. We are selling Limerick really."
Anne said: "The winter months will obviously be our busy time. Bring on the cold! The stall has started to gain momentum and we are getting a lot of repeat customers, which is a very good sign. If people keep coming back, then you know you're on the right track."