Famous for wide selection of Irish and European artisan foods.
Country Choice, one of Ireland's best known food businesses, was established in 1982 by Peter and Mary Ward. The business has gained a national profile for selling fresh home made food, including real hams, organic vegetables, wholemeal breads, farmhouse butter and ripe cheese.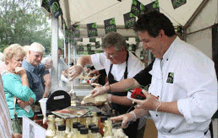 Country Choice at the Milk Market is supported by a large production kitchen at 25 Kenyon Street, Nenagh, Co. Tipperary and an industrial unit at the Stafford St. Industrial Estate. Specialties developed over the years include Cashel Blue and broccoli soup – served with their magnificent home-baked breads (made with local flours) – savoury and sweet pastry dishes (quiches, fruit tarts) and tender, gently-cooked meat dishes like lamb ragout and beef and Guinness casserole. The shop carries a very wide range of the finest Irish artisan produce, plus a smaller selection of specialist products from further afield – such as olive oil.
For the last 28 years, Country Choice has stuck to its core principles of local sourcing of foods and promoting the work of the best of Irish artisan producers both in the region and nationally. The business has built up a large network of committed suppliers for produce such as eggs, fruits, vegetables, meat and poultry.
In recent years Country Choice has also moved to sourcing unique products from a committed group of small and select European artisan producers. Most of these producers are now their established partners for the supply of unique products to Country Choice. The majority of these people are involved in the international Slow Food movement and like Country Choice espouse the principles of "Good, Clean, and Fair".
Organic Foods
Country Choice also sells and sources a growing range of organic ingredients for their kitchen and an ever increasing range of own brand products such as olive oils, tomatoes, vanilla and coffees etc. The business is a registered and certified organic trader and packer by Ireland's Organic Trust. Country Choice at the Milk Market stocks a unique range of boutique wines and champagnes, all imported from small organic farms in Spain, France and Italy. These wines are all sold at a very attractive prices to the consumer and are part of the shop's policy of competing with the ever powerful multiples.
Peter Ward was the Chairman of the Irish Taste Council for 5 years, an industry body funded by the government for the promotion of Irish artisan food. Peter is also a board member of Good Food Ireland, a marketing group to promote the use of Irish artisan food in the hospitality industry.
In the past number of years Peter has been engaged in high profile food promotions in Ireland and abroad and managed the Bord Bia sponsored Irish Food Stand at each leg of the "Volvo Round the World" yachting race in 2009.
Accolades
Country Choice is recommended by all major Irish newspapers and food magazines. It has received accolades from John and Sally McKenna of the famous Bridgestone guides and features in the Georgina Campbell's guide to Ireland's good food premises. The business is featured on the Good Food Ireland website. Country Choice has also received many accolades in such overseas publications such as The Boston Globe, Saveur magazine and Frommers and Frodors guides.
At the Milk Market
Country Choice at the Milk Market has a shop in units 4 & 5 of the new Food Pavillion and is open Wednesdays through Sundays and on Bank Holidays. Their website is www.countrychoice.ie
Contact Details:
Contact: Peter Ward
Tel: 067 32596
Email Us: [email protected]
Website: www.countrychoice.ie
Location: Milk Market Unit 4 & 5
Opening Times
Weds: 11.00 to 17.00hrs
Thurs: 11.00 to 17.00hrs
Fri: 11.00 to 19.00hrs
Sat: 08.00 to 16.00hrs
Sun: 11.00 to 16.00hrs
Bank Holiday Mondays: 11.00 to 16.00hrs