St Patrick's Weekend Unlocked @ The Milk Market 2018
"The Limerick Milk Market are pleased to be teaming up with Clareview Car Sales and Citroen who are sponsoring a series of free entry, family friendly promotions, events and prize giveaways at the Milk Market from Thursday 17th to Sunday 20th March 2016 as part of our St Patricks and Early Easter Celebration weekend.
Limerick Smarter Travel who partner with the Milk Market each week offering bicycle repair service stall at the Friday Market in recent months, (Saturday repair coming soon) will also join us outing the positive programmes they are running city wide to promote eco-friendly healthy alternative green travel initiatives available, helping you become more Green this St Patricks weekend and beyond. The nominated Charity for this month's event is the local charity Limerick Animal Welfare who do amazing work rescuing and rehoming dogs, cats, rabbits, horses and many other animals when they find themselves homeless." David Fitzgerald – Limerick Milk Market
The Action Packed weekend at the Milk Market kicks off St Patricks day Thursday 17th March (10am-4pm) and runs four days until Sunday 20th March (11am-4pm) culminating in a complimentary delicious Easter Egg Hunt at the Milk Market sponsored by Clareview/Citroen, with hundreds of Euro of Artisan Milk Market Easter Eggs and Chocolate Prizes in addition to various giveaway promotions the over the four days at the Market.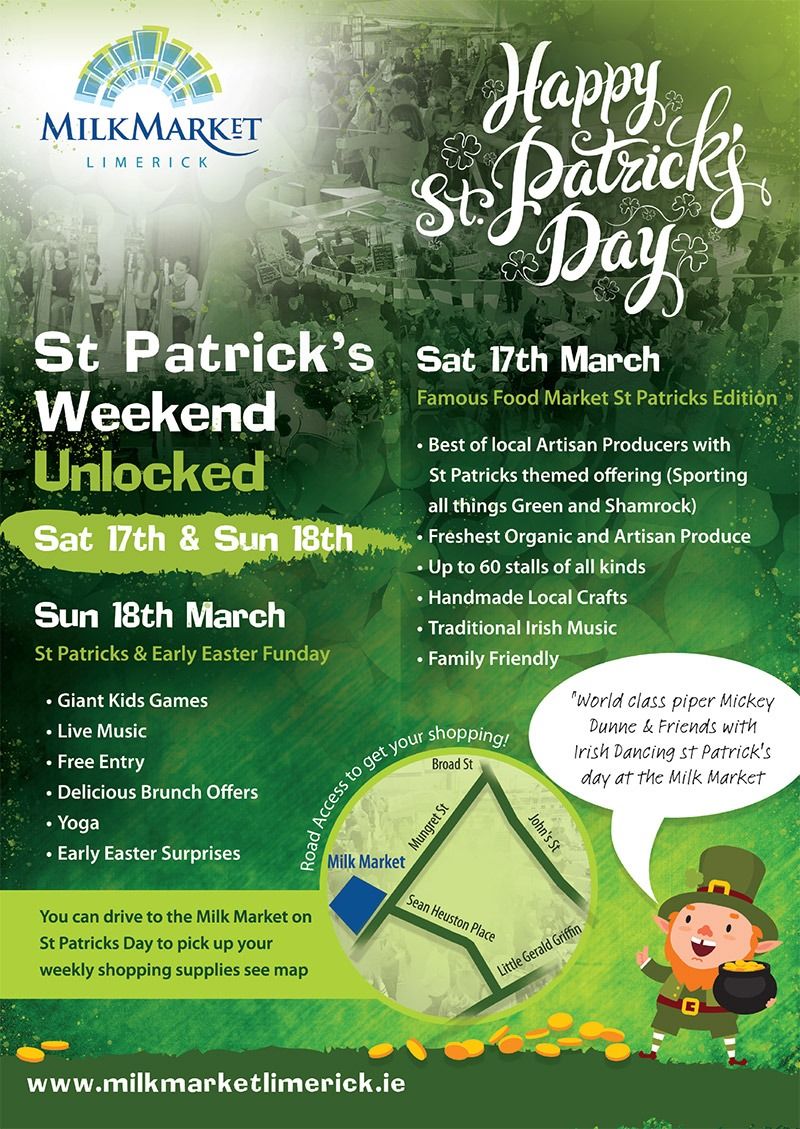 Clareview/Citroen have kindly sponsored four large games Thursday and Sunday here at the 'Clareview/Citroen Children's Celebration Centre' offering free to use fun by families that are looking for an alcohol free safe environment to relax, eat, play and enjoy the city centre after the St Patrick's Day Parade Thursday 17th and the International Band Parade on Sunday 20th.
The four Games that will be at the Milk Market are Giant Board Game style attractions including: Milk the Cow, Balloon Modelling, Giant Connect Four and Giant Twister Games for all round family entertainment. Also Featuring live and traditional music, colouring In, Limerick Print Markets sign making, face painters, entertainers, removable stick-on tattoos, free stickers, prizes including passes to Beautiful South and Hermitage Green at the Milk Market, Yoga (Friday and Sunday), Tai Chi (Sun), Irish Country women's Association (Sat), Egg Hunt (Sun), multiple Food, Fashion and Craft Stalls/Shops for parents to take in.
Call to the Limerick Milk Market this St Patricks Weekend 17th to 20th March for all your day time entertainment needs at the premier open air family friendly destination based in the heart of Limerick city centre within the historic Market Quarter area your local Milk Market.
Please see our Facebook page for live updates.